Preview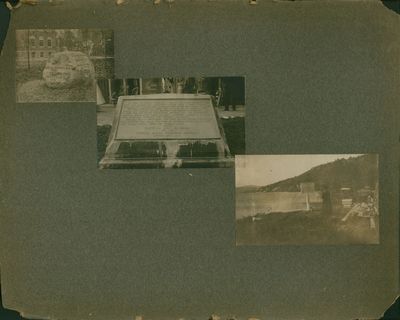 Description
A collage of 3 photographs showing commemorative stones at Ticonderoga. The first photograph in the upper left corner is entitled "Glory to All", it is a boulder carved with the names of historical figures that played a role in the battles around the Lake Champlain area. The middle photograph is an image of a monument opposite the location of the site of a mill that was used to mill the timber for the construction of Fort Carillon, later named Fort Ticonderoga. The third photograph in the bottom right is of a woman dressed in dark coat and hat standing with flowers at the spot that is marked as the location that Lord George Howe fell during the battle of Fort Carillon during the French and Indian War. Each photograph is approximately 3.5" x 5"
Identified Persons
Samuel De Champlain; Lord George Howe; Jeffery Amherst; General John Burgoyne; General Louis-Joseph de Montcalm
Identified Places
Lake Champlain; Fort Carillon; Fort Ticonderoga; Ticonderoga
Accession Number
2018.002.068
Notes
See additional file for information on back of photograph.
Reuse Permission


This work is licensed under a Creative Commons Attribution-Noncommercial-No Derivative Works 4.0 License.
Recommended Citation
L'Union Saint-Jean-Baptiste d'Amérique Archives, Emmanuel d'Alzon Library Manuscript and Photograph Collection. Assumption University, Worcester, Massachusetts
Keywords
Fort Carillon, Fort Ticonderoga, Lord George Howe, French and Indian War, Lake Champlain
COinS