Preview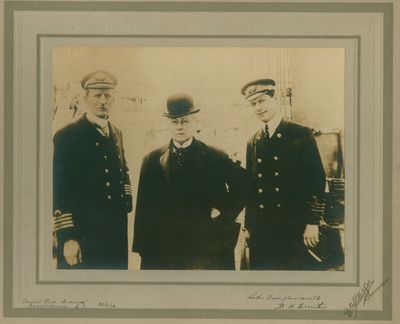 Description
Exterior portrait of D.H. Smith, captain of the "Success" a floating museum of a convict ship. Also pictured is Aram Pothier and an unidentified sailor. The image is a 3/4 length photograph, not much of the ship is visible in the image. Inscribed on the mounting of the image "Convict Ship 'Success' Providence, R.I. 20/11/12" and "With compliments. D. H. Smith." Embossed on right bottom corner "Wm. Mills & Son, Providence, R.I." 8" x 6"
Identified Persons
Aram Pothier, D. H. Smith
Identified Places
Woonsocket, Rhode Island
Approximate Date
November 20, 1912
Photographer
William Mills & Son, Providence, R.I.
Accession Number
2018.002.046
Reuse Permission


This work is licensed under a Creative Commons Attribution-NonCommercial-No Derivative Works 4.0 International License.
Recommended Citation
L'Union Saint-Jean-Baptiste d'Amérique Archives, Emmanuel d'Alzon Library Manuscript and Photograph Collection. Assumption University, Worcester, Massachusetts