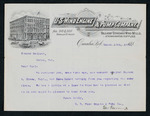 Identified Persons
George Turner; Horace R. Chase; Major Edmond Mallet
Identified Places
Genoa Indian Industrial School; Genoa, Nebraska
Recipient
Major Edmond Mallet
Approximate Date
March 15, 1889
Original Item Medium
Correspondence
Accession Number
2013.001.167
Folder Name
Genoa-Indian-Training-School,-Genoa,-Nebraska
Digital Reproduction Information
Scanned from a photograph at 400 dpi in TIFF format using a Nikon D800, and imported as JPEG2000 using CONTENTdm's software JPEG2000 Extension. 2015
Creative Commons License


This work is licensed under a Creative Commons Attribution-NonCommercial-No Derivative Works 4.0 International License.
Transcription
U.S. WIND ENGINE
& PUMP COMPANY
HALLADAY STANDARD WIND MILLS,
STEAM & WATER SUPPLIES
NOS. 918 & 920
FARNHAM STREET
Omaha, Neb. March 15, 1889
Edmond Mallett,
Genoa, Neb.
Dear Sir: -
We rendered you, some time ago, our account against Horace
R. Chase, Supt., but have heard nothing from you regarding the same
since. We are a little at a loss to know how to proceed or what
to do and would be pleased to hear from you.
Yours truly,
U.S. Wind Engine & Pump. Co.,
George Turner
Recommended Citation
Edmond J. Mallet Collection. Emmanuel d'Alzon Library Manuscript and Photograph Collection. Assumption University, Worcester, Massachusetts.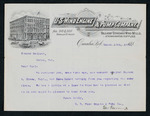 COinS
Keywords
Agency supplies, Government Relations with Native Americans, Native American Schools, Native American Reservations