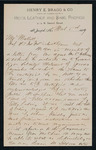 Identified Persons
Henry E. Bragg; Horace R. Chase; Major Edmond Mallet
Identified Places
Genoa Indian Industrial School; Genoa, Nebraska
Recipient
Major Edmond Mallet
Approximate Date
March 5, 1889
Original Item Medium
Correspondence
Accession Number
2013.001.160
Folder Name
Genoa-Indian-Training-School,-Genoa,-Nebraska
Notes
Henry E. Bragg was owner of Henry E. Bragg & Co. Tanners and Wholesale Dealers in Hides, Leather and Shoe Findings
Digital Reproduction Information
Scanned from a photograph at 400 dpi in TIFF format using a Nikon D800, and imported as JPEG2000 using CONTENTdm's software JPEG2000 Extension. 2015
Creative Commons License


This work is licensed under a Creative Commons Attribution-NonCommercial-No Derivative Works 4.0 International License.
Transcription
HENRY E. BRAGG & CO.
TANNERS AND WHOLESALE DEALERS IN
HIDES,LEATHER AND SHOE FINDINGS,
212 N. Second Street.
St. Joseph, Mo. March 5th 1889
Mr. Mallet
Insp. US Ind Industrial School Genoa Neb
We are in receipt of
a letter from our agent. Mr. C [?] Bragg
in which he instructs us to forward
to you detailed statement of goods
furnished [?] school the same is
[?] certified by us, will you
kindly inform us whether these
bills are to be certified and
acknowledged [?] [?] a notary
public. We suppose that you will
want the bills accompanied by
bills lading if so will the bills
of lading require to be certified and
if so by whom. Kindly give us
such particular instructions as will
enable us to meet requirements
with reference to the payments
received from Mr. Chase. We may not
be able to state as definitively as
you may desire we seldom enter
the particulars with reference
to remittance rec'd as to naming
the banks in which checks are
drawn but will do our best to
supply all information wanted.
Awaiting your reply
We are Yours Truly,
Henry S. Bragg Co.
Recommended Citation
Edmond J. Mallet Collection. Emmanuel d'Alzon Library Manuscript and Photograph Collection. Assumption University, Worcester, Massachusetts.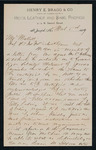 COinS
Keywords
Agency supplies, Native American Reservations, Native American Schools