Preview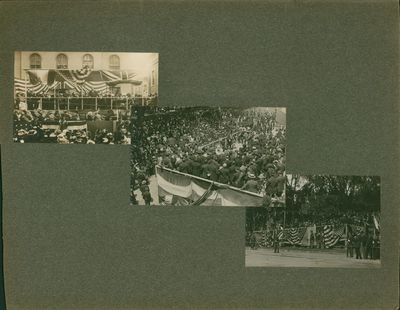 Description
A collage of 3 photographs. The first in the upper left is an image of President Taft giving a speech at the celebration of the 300th anniversary of the discovery of Lake Champlain. Image shows President Taft standing on a temporary staging. Dozens of men and women, and a band are sitting on same stage, there are many more standing below the stage in audience area. Stage is decorated with American, French, and English flags. The second image shows the staging area before President Taft arrives for his speech. The photograph is taken from above the stage which gives a full view of the people on the stage and the crowd below the stage. The third image in the lower right corner shows President Taft standing at a review stage for a parade. The stage is also decorated with American, French, and English flags. There is a large crowd of men and women on the stage with him. Policemen are standing on the street in front of the stage and possibly holding rifles. Each image is approximate 3.5" x 5".
Identified Persons
President William Taft; Samuel de Champlain
Identified Places
Lake Champlain; Burlington, Vermont
Accession Number
2018.002.060
Notes
See additional file for information on back of photograph.
Reuse Permission


This work is licensed under a Creative Commons Attribution-Noncommercial-No Derivative Works 4.0 License.
Recommended Citation
L'Union Saint-Jean-Baptiste d'Amérique Archives, Emmanuel d'Alzon Library Manuscript and Photograph Collection. Assumption University, Worcester, Massachusetts