Preview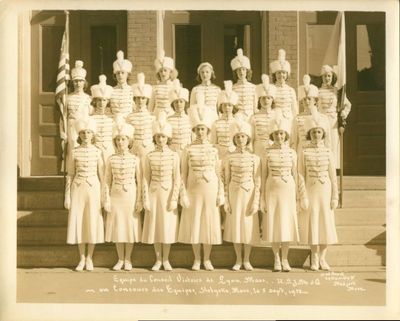 Description
Exterior portrait of female drill team from Lynn, Massachusetts. Standing in 3 rows, wearing white uniforms and hats. "Equipe du Conseil Victoire de Lynn, Mass, - U.S. JBte d'A au Concours des Equipes, Holyoke, Mass, le 5 sept., 1938" and "H.W. Brock 39 Daniels St. Medford, Mass." written on front of photograph. 8" x 10"
Identified Places
Lynn, Massachusetts; Holyoke, Massachusetts
Photographer
H.W. Brock, Medford, Massachusetts
Accession Number
2018.002.018
Notes
"Conseils" or councils of the USJB were local organisations for members of the national USJB. They were often named after Catholic saints or famous French Canadians.
Reuse Permission


This work is licensed under a Creative Commons Attribution-NonCommercial-No Derivative Works 4.0 International License.
Recommended Citation
L'Union Saint-Jean-Baptiste d'Amérique Archives, Emmanuel d'Alzon Library Manuscript and Photograph Collection. Assumption University, Worcester, Massachusetts
Keywords
Drill teams, Franco-Americans
COinS