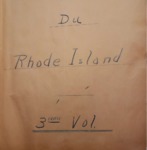 Description
The third volume of three scrapbooks on the people and the events surrounding the "Sentinelle Affair." The "Sentinelle Affair" was so named for a newspaper called La Sentinelle which was founded by Elphège Daignault and others in opposition to Mgr. William Hickey's fund raising project. In 1924, Bishop Hickey of the Diocese of Providence Rhode Island launched a project to raise funds at the parochial level, in order to build several English language Catholic high schools. If a parish did not reach a quota for fund raising, a special tax was imposed on the church. Daignault and other Franco-American leaders opposed this project for many reasons, especially because they felt it was unfair for French speaking parishes to be forced to subsidize the building of English speaking schools. Thus ensued a war of words played out in many Franco-American newspapers of the time. In early 1928 Daignault and dozens of supporters of the Sentinellist movement were excommunicated by the Holy See and it became a sin for Catholics to read, sell, or distribute La Sentinelle. A year later Daignault and his followers capitulated and were readmitted to the Catholic Church. A compilation of newspaper clippings and court documents from New England.
Created or Published by
Union Saint Jean Baptiste d'Amerique
Approximate Date
1927-1928
Keywords
Parochial schools, Catholic Church, French Language
Recommended Citation
L'Union Saint-Jean-Baptiste Collection. French Institute at Assumption University, Worcester, Massachusetts.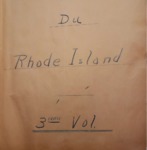 COinS