Preview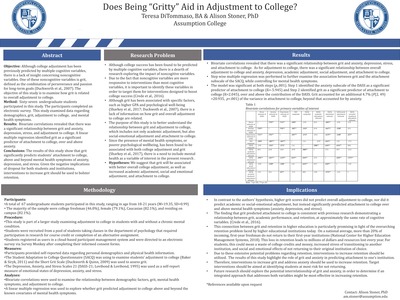 Abstract
Objective: Although college adjustment has been previously predicted by multiple cognitive variables, there is a lack of insight concerning noncognitive variables. One of these noncognitive variables is grit, defined as the combination of perseverance and passion for long-term goals (Duckworth et al., 2007). The objective of this study is to examine how grit is related to overall adjustment to college.
Method: Sixty-seven undergraduate students participated in this study. The participants completed an electronic survey. This study examined data regarding demographics, grit, adjustment to college, and mental health symptoms.
Results: Bivariate correlations revealed that there was a significant relationship between grit and anxiety, depression, stress, and adjustment to college. A linear multiple regression identified grit as a significant predictor of attachment to college, over and above anxiety.
Conclusions: The results of this study show that grit significantly predicts students' attachment to college, above and beyond mental health symptoms of anxiety, depression, and stress. Given the negative implications of dropout for both students and institutions, interventions to increase grit should be used to bolster retention.
Recommended Citation
DiTommaso, Teresa and Stoner, Alison M., "Does Being "Gritty" Aid in Adjustment to College?" (2018). Psychology Department Posters. 2.
https://digitalcommons.assumption.edu/psychology-poster/2