Preview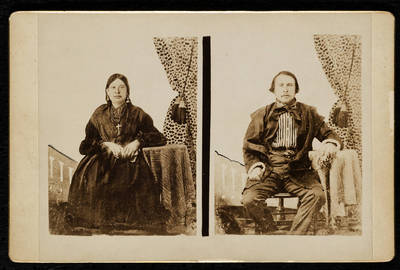 Description
Studio portraits of Gabriel Dumont and his wife Madeleine Wilkie, both Matis: Dumont from the Red River Settlement and Wilkie from Pembina, Dakota Territory. Individual photographs of each seated in the same studio setting that are combined into one photograph on a cabinet card. Madeleine is wearing a full dark colored dress with a crucifix in a fashion typical of Metis women of the time. Gabriel is wearing a suit with a Metis sash or ceinture fléchée and a striped shirt. Gilt-edged.
Identified Persons
Gabriel Dumont; Madeleine Wilkie
Photographer
Ryder Larsen
View Type
full-length; interior
Original Item Medium
Cabinet photographs
Accession Number
2013.001.075
Folder Name
Miscellaneous_Photographs_from_Mallet_Collection
Notes
Special thanks to Lyle Brennen for his assistance in dating this photograph and his interest in sharing this important photograph with interested researchers.
Digital Reproduction Information
Scanned from a photograph at 400 dpi in TIFF format using a Sinarback eVolution 86, Sinar M, and enhanced using Adobe Photoshop, and imported as JPEG2000 using CONTENTdm's software JPEG2000 Extension. 2015
Reuse Permission


This work is licensed under a Creative Commons Attribution-NonCommercial-No Derivative Works 4.0 International License.
Recommended Citation
Edmond J. Mallet Collection. French Institute at Assumption University, Worcester, Massachusetts.