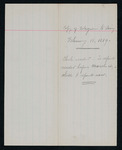 Identified Persons
E.E. White; Horace R. Chase; Major Edmond Mallet; Secretary of the Interior
Identified Places
Genoa Indian Industrial School; Genoa, Nebraska
Recipient
Secretary of the Interior
Approximate Date
February 18, 1889
Original Item Medium
Correspondence; Telegram
Accession Number
2013.001.157
Folder Name
Genoa-Indian-Training-School,-Genoa,-Nebraska
Digital Reproduction Information
Scanned from a photograph at 400 dpi in TIFF format using a Nikon D800, and imported as JPEG2000 using CONTENTdm's software JPEG2000 Extension. 2015
Creative Commons License


This work is licensed under a Creative Commons Attribution-NonCommercial-No Derivative Works 4.0 International License.
Transcription
Genoa, Nebraska
February 18 [188]9
Secretary of the Interior
Washington, D.C.
Special Agent White has taken clerk and
I am left without competent help. Will you authorize
employment of clerk to take depositions, [?]
If you want investigation completed to prove
Chase's guilt, to remove him, I can make
report now, so that you can get it in two weeks,
if you want all material facts to review as
basis for settlement of his accounts it will take
four to six weeks more. Nearly every voucher,
for two years, false in items and raised in amounts.
Large transactions in Columbus, Lincoln and Omaha
which places must be visited to make thorough
investigation. Shall I ascertain facts as
to each voucher, or prepare reports now on basis of proving
guilt for final removal? Please send me definite instructions
Mallet
Indian Inspector
Recommended Citation
Edmond J. Mallet Collection. Emmanuel d'Alzon Library Manuscript and Photograph Collection. Assumption University, Worcester, Massachusetts.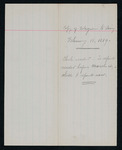 COinS
Keywords
Government Relations with Native Americans, Native American Reservations