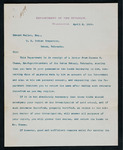 Identified Persons
H.L. Muldrow; Horace R. Chase; Major Edmond Mallet
Identified Places
Genoa Indian Industrial School; Genoa, Nebraska
Recipient
Major Edmond Mallet
Approximate Date
April 2, 1889
Original Item Medium
Correspondence
Accession Number
2013.001.165
Folder Name
Genoa-Indian-Training-School,-Genoa,-Nebraska
Digital Reproduction Information
Scanned from a photograph at 400 dpi in TIFF format using a Nikon D800, and imported as JPEG2000 using CONTENTdm's software JPEG2000 Extension. 2015
Creative Commons License


This work is licensed under a Creative Commons Attribution-NonCommercial-No Derivative Works 4.0 International License.
Transcription
DEPARTMENT OF THE INTERIOR WASHINGTON,
April 2, 1889
Edmond Mallet, Esq.,
U.S. Indian Inspector
Genoa, Nebraska.
Sir:
This department is in receipt of a letter from Horace R. Chase, Ex-Superintendent of the Genoa School, Nebraska, stating that you have in your possession two books belonging to him, containing data of payments made by him on account of the Government and also on his own personal account, and requesting that the Department instruct you to return the same after making such extracts therefrom as you may require.
If it is not absolutely necessary that these books should accompany your report on the investigation of said school, and if such extracts therefrom, properly verified as relate to the subject matter of your investigation, will answer all purposes of your report, you wil pursue that course, and return the books to Mr. Chase.
If however, good and sufficient reasons exist for sending the original books with your report, you will do so.
Very respectfully,
H.L. Muldrew
1st Assistant Secretary
1713, Ind. Div. '89
Recommended Citation
Edmond J. Mallet Collection. Emmanuel d'Alzon Library Manuscript and Photograph Collection. Assumption University, Worcester, Massachusetts.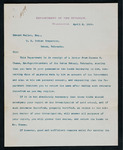 COinS
Keywords
Agency supplies, Government Relations with Native Americans, Office of Indian Affairs