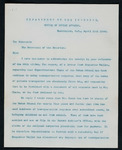 Identified Persons
Horace R. Chase; John H. Oberly; Major Edmond Mallet; Secretary of the Interior
Identified Places
Genoa Indian Industrial School; Genoa, Nebraska
Recipient
Secretary of the Interior
Approximate Date
April 11, 1889
Original Item Medium
Correspondence
Accession Number
2013.001.164
Folder Name
Genoa-Indian-Training-School,-Genoa,-Nebraska
Digital Reproduction Information
Scanned from a photograph at 400 dpi in TIFF format using a Nikon D800, and imported as JPEG2000 using CONTENTdm's software JPEG2000 Extension. 2015
Creative Commons License


This work is licensed under a Creative Commons Attribution-NonCommercial-No Derivative Works 4.0 International License.
Transcription
DEPARTMENT OF THE INTERIOR
OFFICE OF INDIAN AFFAIRS
Washington, D.C., April 11th 1889
The Honorable
The Secretary of the Interior
Sir:
I have the honor to acknowledge the receipt by your reference
of the 28th ultimo, for report, of a letter from Inspector Mallet,
report that Superintendent Chase of the Genoa School has been
reckless in using transportation requests, that many of the names
of persons transported are absolutely false &c., and requesting
that he be furnished with a statement of all requests used by Mr.
Chase, on the form enclosed by him.
In reply I would state that Mr. Chase has been in charge of
the Genoa School for nearly four years and during that time has
used hundreds of transportation requests over subsidized roads, in
bringing children to and from school. Most of them have been
settled and are on file in the Second Auditor's Office, with the
claims of the railroad companies presenting them for payment. It
is therefore impracticable to furnish such a statement; but if
Inspector Mallet has discovered any improper use of transportation
requests, he should report the facts in the case to the department
and the matter can be considered in the final settlement of the
accounts of Superintendent Chase.
The letter of Inspector Mallet is herewith returned.
Very respectfully,
Jno. H. Oberly
Commission.
E.S.W.
Recommended Citation
Edmond J. Mallet Collection. Emmanuel d'Alzon Library Manuscript and Photograph Collection. Assumption University, Worcester, Massachusetts.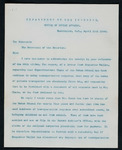 COinS
Keywords
Native American Reservations, Native American Schools, Transporting American Indians, Office of Indian Affairs