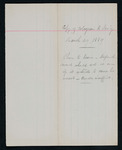 Identified Persons
Horace R. Chase; Major Edmond Mallet; Secretary of the Interior
Identified Places
Genoa Indian Industrial School; Genoa, Nebraska
Recipient
Secretary of the Interior
Approximate Date
March 29, 1889
Original Item Medium
Correspondence; Telegram
Accession Number
2013.001.159
Folder Name
Genoa-Indian-Training-School,-Genoa,-Nebraska
Digital Reproduction Information
Scanned from a photograph at 400 dpi in TIFF format using a Nikon D800, and imported as JPEG2000 using CONTENTdm's software JPEG2000 Extension. 2015
Creative Commons License


This work is licensed under a Creative Commons Attribution-NonCommercial-No Derivative Works 4.0 International License.
Transcription
Telegram
Genoa, Nebraska
March 29 [188]9
The Secretary of the Interior
Washington D.C.
Chase, of Indian School will leave on next
Monday. If the Department intends securing his
arrest for defrauding the pupils, selling public
property and applying the proceeds to his own use,
presenting, and receiving money on false vouchers, and
other fraudulent practices it should act without delay.
[?] of his bonds insufficient to cover frauds.
Mallet Indian Inspector
Official [?]
Recommended Citation
Edmond J. Mallet Collection. Emmanuel d'Alzon Library Manuscript and Photograph Collection. Assumption University, Worcester, Massachusetts.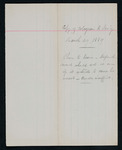 COinS
Keywords
Government Relations with Native Americans, Native American Reservations, Agency supplies, Native American Employees at Reservations