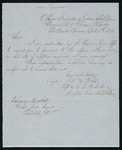 Identified Persons
Major Edmond Mallet; W.H.Bell
Identified Places
Tulalip Agency; Tulalip Indian School
Recipient
Major Edmond Mallet
Approximate Date
October 16, 1876
Original Item Medium
Correspondence
Accession Number
2013.001.084
Folder Name
Tulalip_Agency,_Washington_Territory
Digital Reproduction Information
Scanned from a photograph at 400 dpi in TIFF format using a Nikon D800, and imported as JPEG2000 using CONTENTdm's software JPEG2000 Extension. 2015
Creative Commons License


This work is licensed under a Creative Commons Attribution-NonCommercial-No Derivative Works 4.0 International License.
Transcription
-Copy-
Office Inspector Indian Supplies
Room No. 7, Glisan Block
Portland, Oregon, Oct. 16th 1876
Sir:
I am instructed by the Comr Ind Affr to request you to forward to this office without delay, an estimate of supplies required at your agency.
Your appropriation is $4250. currency, be careful not to exceed that amt.
Very respectfully
(signed) W H Bell
Capt.and[?].S.U.S.A.
Inspector Ind. Supplies
Edmond Mallet
U.S. Ind Agent
Tulalip, W.T.
Recommended Citation
Edmond J. Mallet Collection. Emmanuel d'Alzon Library Manuscript and Photograph Collection. Assumption University, Worcester, Massachusetts.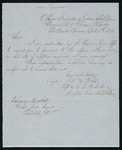 COinS
Keywords
Government Relations with Native Americans, Native American Reservations, Office of Indian Affairs