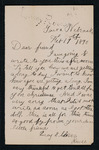 Identified Persons
Lucy E. Rouse
Identified Places
Genoa, Nebraska
Recipient
Major Edmond Mallet
Approximate Date
February 19, 1890
Original Item Medium
Correspondence
Accession Number
2013.001.151
Folder Name
Genoa_Indian_Training_School,_Genoa,_Nebraska
Digital Reproduction Information
Scanned from a photograph at 400 dpi in TIFF format using a Nikon D800, and imported as JPEG2000 using CONTENTdm's software JPEG2000 Extension. 2015
Creative Commons License


This work is licensed under a Creative Commons Attribution-NonCommercial-No Derivative Works 4.0 International License.
Transcription
Lucy Rouse
Genoa Nebraska
Feb. 19th 1890
Dear friend
I am going to
write to you this afternoons
to tell you how we are getting
along today. I want to know
how you are getting along. I am
very thankful to get the doll from
you on christmas. And I was
very sorry that I did not
write as soon as I got the
doll. this is all for this time
so good by from your dear
little friend
Lucy E. [?] Rouse
Recommended Citation
Edmond J. Mallet Collection. Emmanuel d'Alzon Library Manuscript and Photograph Collection. Assumption University, Worcester, Massachusetts.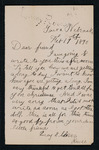 COinS
Keywords
Native American Correspondence