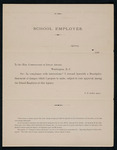 Identified Persons
Allie Gray; Anna Gray; Blind Roy; Charles F. Ashley; E.J. Simpson; Emma Rogers; James Monroe; Jennie Meagher; L. Hieronymus; Lizzie A. Sims; M. Balenti; Nannie S. Whitmore; Roy Blind; Sophie Whitmer; Sophie Whitmore; William Nash
Identified Places
Arapaho School; Cheyenne and Arapaho Agency; Darlington Agency
Approximate Date
July 27, 1889
Original Item Medium
Ledger
Accession Number
2013.001.113
Folder Name
Inspection_of_Cheyenne_&_Arapahoe _Agency_at_Darlington_and_ Reports_of_the_Schools_at_the_Same_Agency.
Digital Reproduction Information
Scanned from a photograph at 400 dpi in TIFF format using a Nikon D800, and imported as JPEG2000 using CONTENTdm's software JPEG2000 Extension. 2015
Creative Commons License


This work is licensed under a Creative Commons Attribution-NonCommercial-No Derivative Works 4.0 International License.
Recommended Citation
Edmond J. Mallet Collection. Emmanuel d'Alzon Library Manuscript and Photograph Collection. Assumption University, Worcester, Massachusetts.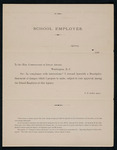 COinS
Keywords
Arapaho School, Native American Schools, Native American Reservations, Native American Employees at Reservations