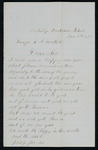 Identified Persons
Alec Maurice; Major Edmond Mallet
Identified Places
Tulalip Indian School; Tulalip Mission
Recipient
Major Edmond Mallet
Approximate Date
January 1, 1877
Original Item Medium
Correspondence
Accession Number
2013.001.077
Folder Name
Tulalip_Agency,_Washington_Territory
Digital Reproduction Information
Scanned from a photograph at 400 dpi in TIFF format using a Nikon D800, and imported as JPEG2000 using CONTENTdm's software JPEG2000 Extension. 2015
Creative Commons License


This work is licensed under a Creative Commons Attribution-NonCommercial-No Derivative Works 4.0 International License.
Transcription
T
Tulalip Indian School
Jan 1th[sic] 1877
Major E J Mallet
Dear Sir
I wish you a Happy new year what pleasent[sic] words are these especiely[sic] to the ears of the young and also to the ears of all people we are all glad at this new year how good god is he gives us a time in this world to do good and if we are not good we will not go to Heaven but now we must be good and we will go to Heaven and if we are good we will be Happy in this world and the next. pray for me and I will pray for you
Very respetfully
your obediantly Servant
Alec Maurice
Recommended Citation
Edmond J. Mallet Collection. Emmanuel d'Alzon Library Manuscript and Photograph Collection. Assumption University, Worcester, Massachusetts.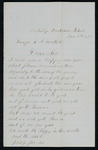 COinS
Keywords
Native American Schools, Native American Reservations